Very few people who play sports will become professional athletes. But in addition to the obvious physical benefits of playing sports, we learn other things that are applicable and valuable off the field.
It's the same with bushcraft and survival training. As this field continues to grow exponentially, it's important to remember that not everyone who undergoes training will become a professional wilderness guide or survival instructor. And that's OK. But going through the training process can still reap huge benefits for you.
How?
In education it's called transference or "transfer of learning". It's all about how to apply what you learned in one context to a separate, unrelated context.
There is a lot more education going on in our field school programs than simply learning about bushcraft. We want to give people skills that help them be more successful in whatever they do. This includes business and life.
So I came up with 7 things people learn on our courses that have nothing to do with bushcraft, and discuss them in episode 72 of the JMB Podcast. They are:
Method for learning anything
Leadership skills
Creative problem solving
Planning and project management
Hand skills
Soft skills/people skills
Confidence
PHOTO: Working as a team to get through an embacle on the Bonaventure River on the Gaspe Peninsula, Quebec.
Kid-Friendly?
There is no profanity used in this episode.
---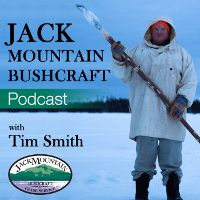 Podcast: Play in new window | Download (Duration: 25:23 — 23.3MB)
Subscribe: RSS