Hey everyone, Christopher Russell from Jack Mountain and School of the forest here,
This summer I got to help out with Jack Mountain's summer woodsman course at our field school in Maine. Two fathers took part in this course with their sons, and it was really great to watch them learning together, as well as just sitting around camp at the end of the day, enjoying the time spent in the outdoors together. Seeing the value parents and children get out of a course like that set in stone and idea that's been bouncing around my noggin for a while. We're going to bring back the "Family Bushcraft" class that used to be offered at Jack Mountain.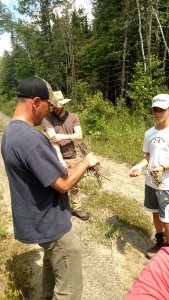 School Of The Forest, Jack Moutain's youth oriented side, is focused on helping kids develop an understanding of the outdoors, and themselves. What better way to reach that goal than to help them spend time with their families while learning new skills, and enjoying all that outdoor living has to offer. So be sure to check back on this site, and at School Of The Forest. We'll be rebuilding the course, and keeping you updated as we do.
See you all on the trail soon.