I'm trying something new – creating an audiobook. For episode 101 of the JMB Podcast I read a chapter from my book On The Trail. The chapter is a journal from a June, 2000 canoe trip on the Swan Lake Canoe Route on Alaska's Kenai Peninsula. The plan is to work through the book so that it is available via audio format here on the podcast. Like it? Hate it? Let us know.
You can download a free copy of On The Trail from the downloads section of BushcraftSchool.com. You can also purchase one for $0.99 from Amazon.
PHOTO: On The Trail – Canoe & Snowshoe Trip Journals.
Show Notes: JMB Podcast Episode 101 | Swan Lake Canoe Route, Alaskan Trip Journal
Kid-Friendly?
Kid friendly, no profanity.
Links:
---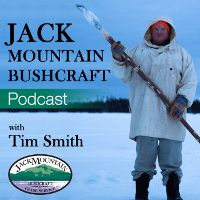 Podcast: Play in new window | Download (Duration: 20:19 — 37.2MB)
Subscribe: RSS