Minimalism in the wild. In episode 95 of the JMB Podcast Christopher and I discuss the idea of minimalism as compared and contrasted with ultralight in the backcountry.
We often discuss our traditional approach to camping, characterized by heavy gear and lots of it. But we also enjoy going light with improvised gear. Going light with homemade gear will recalibrate your baseline. Too much stuff gets in the way and becomes the focus. It hinders, rather than helps, to build your relationship with the land. Our discussion is about the benefits of going minimalist from time to time.
PHOTO: First light on a lake in the North Maine Woods, photo by Christopher Russell and his fancy new camera.
Show Notes: JMB Podcast Episode 95 | Minimalism In The Wild
Kid-Friendly?
Kid friendly, no profanity.
Links:
---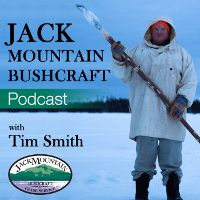 Podcast: Play in new window | Download (Duration: 33:40 — 30.8MB)
Subscribe: RSS