Tracking mammals is the topic for episode 76 of the JMB Podcast. We discuss how we approach teaching tracking, the three types of tracking (clear print, pattern, sign), the three tasks of the tracker (locate, identify, interpret), and why jumping to conclusions is bad, but jumping to exclusions is good. Also covered is why bother tracking and what you can actively do with tracks to help the lessons stick.
We also talk about what we're reading, and how we're planning to start a book club on BushcraftSchool.com, our online network. I'm reading John Hudson's book How To Survive (see link below), and Christopher is reading Nature First (see link below).
PHOTO: Books, track casts and coffee on the table in the Guide Shack.
Kid-Friendly?
There is no profanity used in this episode.
Links:
---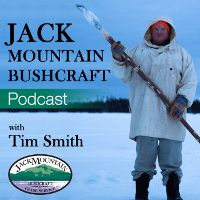 Podcast: Play in new window | Download (Duration: 38:09 — 35.0MB)
Subscribe: RSS