Episode 73 of the Jack Mountain Bushcraft podcast was recorded in the Guide Shack on Saturday, July 27th immediately following the Riverman canoe expedition skills course. I was joined by Brian Manning, Darrin Baird and Blake Towsley, and we discussed the course, learning traditional canoe skills and why they matter in the modern world.
PHOTO: Canoes on a northern Maine lake.
Kid-Friendly?
There is no profanity used in this episode.
Links:
---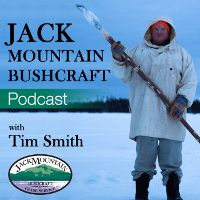 Podcast: Play in new window | Download (Duration: 28:26 — 26.1MB)
Subscribe: RSS