Last weekend was arguably the best weather you could request for the last weekend in April. Sunny, a slight breeze and warm, it was perfect for hitting the water and getting the winter cobwebs out of canoe muscles. We ran two, 1-day canoe programs at the folk school in NH and they both were fantastic.
Saturday we ran our 1-day canoe poling workshop here on Rust Pond. We had sun and no wind, which are perfect conditions for learning. After spending the morning on poling exercises, we worked on traditional paddling strokes. The word 'tradition' is bandied about a lot these days, so to further clarify, I mean traveling strokes geared toward efficiently propeling a loaded boat mile after mile, day after day. Most of the instruction focused on the knifing J and the pitch stroke. My own favorite stroke is a hybrid of these two, and it's taken me thousands of miles with relative ease.
After a mid-afternoon walk in the woods to identify brown ash and differentiate it from white ash by the bark, we returned to the water to cover a variety of other strokes: the draw, cross draw, pry, sweep, reverse sweep, backwards J and sculling draw. After calling it a day we had a dutch oven chicken dinner.
Sunday we put in on the Bearcamp river, then poled upstream for an hour to get a feel for working against the current. Then we started downstream and floated several hours out to Ossipee Lake. We crossed the lake with a stunning view of New Hampshire's White Mountains in the distance before entering the Pine River, which we ascended to the take out.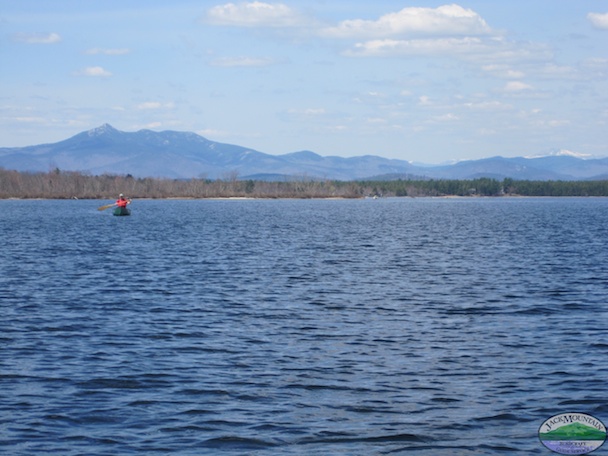 We were on the water for a little over 5 hours, and all of it was enjoyable and beautiful.
This week we're preparing for our Wilderness Canoe Expedition Semester. Planning and packing meals, prepping gear, and tying up a variety of loose ends is on the docket. It's the final of the three courses that make up our Yearlong Wilderness Bushcraft Immersion, and the one that takes all of the skills learned thus far and puts them into practice. It's also a rare opportunity to spend a whole month out, traveling, fishing and living the woods life. After a long winter, I'm really looking forward to it.