Episode 66 of the Jack Mountain Bushcraft Podcast is about the challenges that come with the job of being a professional guide and outdoor instructor. While what we do can look idyllic from the outside, it's not without difficulty. Christopher and I discuss 8 specific challenges that come with the job:
You are never off duty.
You are part of the group, but you have no peers.
You have to make unpopular decisions for the good and safety of the group.
You are a beast of burden.
Time spent away from home and loved ones.
The ever present danger of making your hobby into your job.
You're expected to know everything about everything, all the time.
You are the social director for the groups you work with.
PHOTO: Christopher poling his EM White canoe on an Aroostook county river.
Kid-Friendly? Profanity In This Episode:
There is no profanity used in this episode.
---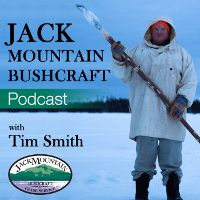 Podcast: Play in new window | Download (Duration: 28:54 — 26.5MB)
Subscribe: RSS