Episode 65 of the Jack Mountain Bushcraft Podcast, recorded on Halfway Day on the spring, 2019 Wilderness Bushcraft Semester course. We catch up with the students and get some of their insights, discuss Christopher's love affair with his new (to him) canoe, and talk about possibly differentiating the spring and fall semesters in 2020, with the spring semester being focused on training wilderness canoe and fishing guides and the fall semester focusing on bushcraft and primitive living skills.
PHOTO: Christopher in his new EM White canoe.
Kid-Friendly? Profanity In This Episode:
There is no profanity used in this episode.
---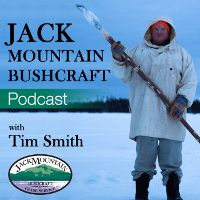 Podcast: Play in new window | Download (Duration: 37:48 — 34.6MB)
Subscribe: RSS