In episode 89 Christopher and I discuss the philosophy of friluftsliv, a traditional Scandinavian approach to the natural world. Loosely translated, it means "open air life". It's different than how most people see nature in the USA, and is the basis for the part-time, yearlong immersion program we're currently developing, to be run in southern Vermont, as well as our field school programs in northern Maine.
In a nutshell, it's all about the experience of being out on the land, and developing a personal relationship with it. My apologies to our friends in Scandinavia if we've missed the mark on some of the aspects; we're still learning.
PHOTO: Snowshoe bindings drying by the fire after a warm, wet day.
Show Notes: JMB Podcast Episode 89 | Friluftsliv Philosophy & Bushcraft
Kid-Friendly?
Kid-friendly, no profanity.
Links:
---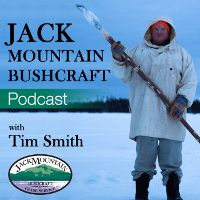 Podcast: Play in new window | Download (Duration: 25:08 — 23.0MB)
Subscribe: RSS