Episode 80 is an interview I did with a student at the end of the fall semester as part of her independent study for college credit. The audio levels are low so you'll have to turn it up, but I think we covered some interesting topics that make it worthwhile.
We discuss the origin of Jack Mountain, the educational benefits of the 30-day primitive living experiment was a part of in 1995, the skills that really matter, and a bunch of other wide-ranging topics.
Usually I'm the one asking the questions, so this a bit of a departure from the norm. It's a no-filter, shoot from the hip-sort of interview, so if you're curious what I really think about certain topics, you'll like this episode.
PHOTO: Tim on the ice during the 2019 Boreal Snowshoe Expedition.
Kid-Friendly?
Not kid friendly, there are several instances of profanity used in this episode.
Links:
---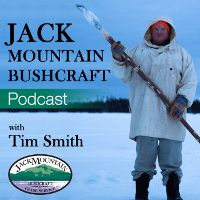 Podcast: Play in new window | Download (Duration: 35:10 — 32.2MB)
Subscribe: RSS