We're nearing the end of the fall, 2021 Wilderness Bushcraft Semester. We just finished a 48 hour primitive living experience and are headed out on solos tomorrow. In this episode of the JMB Podcast we discuss these experiences, as for listener input on the next step for our online network at BushcraftSchool.com and ask for great paddling destinations to break up the drive from Maine to Texas.
PHOTO: Moose by the pond at the field school.
Show Notes: JMB Podcast Episode 109 | Solos, End Of The Fall Semester
Kid-Friendly?
Kid friendly, no profanity.
Links:
---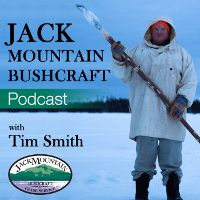 Podcast: Play in new window | Download (Duration: 39:51 — 54.7MB)
Subscribe: RSS