Recorded on September 8th at the new Jack Mountain Bushcraft School hq studio, episode 90 features Tim Smith and Colin Clifford talking about Colin's recent 10-day Allagash solo canoe trip.
PHOTO: Tim Cole coming into Round Pond on the Allagash from a few years back.
Show Notes: JMB Podcast Episode 91 | 10-Day Allagash Solo
Kid-Friendly?
Kid-friendly, no profanity.
Links:
---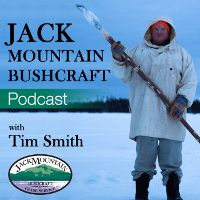 Podcast: Play in new window | Download (Duration: 37:03 — 34.0MB)
Subscribe: RSS