"Fly fishing is beautifully regional." – Paul Sveum
Christoper and I welcomed our old friend and Registered Master Maine Guide Paul Sveum into the studio to discuss spring fly fishing in northern Maine. We discuss flies, fly fishing, temperatures that trout like, and a wide variety of other topics. Paul is teaching our Introduction To Fly Fishing course later this month, although the course is sold out and no spots are available.
PHOTO: Paul fishing a remote stream in Aroostook County, Maine.
Show Notes: JMB Podcast Episode 105 | Spring Fly Fishing In Maine
Kid-Friendly?
Kid friendly, no profanity.
Links:
---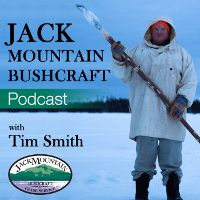 Podcast: Play in new window | Download (Duration: 31:42 — 58.1MB)
Subscribe: RSS