Episode 67 of the Jack Mountain Bushcraft podcast starts with a rant against how outdoor living was broken into two options by a tv writer in 2009: tactical or hippie. Then we talk about the Jack Mountain approach which is neither of those options; the experiential anthropological approach. We talk about how experience shapes a person and why it is an absolute necessity. We also talk about how we learn from cultures who have lived off the land for many generations and why they are better to model our behavior after than the flavor of the week celebrity culture that has infected the outdoor community like a virus.
PHOTO: From March 2019, Cree snowshoes against a blue sky near Ouje-Bougoumou, Quebec.
Kid-Friendly?
There is no profanity used in this episode.
Links: A few books mentioned in this episode. Remember to always check for used copies and earlier editions to save some money.
---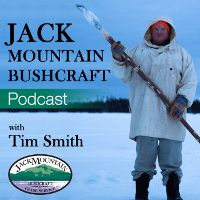 Podcast: Play in new window | Download (Duration: 32:03 — 29.4MB)
Subscribe: RSS