For episode 98 of the JMB podcast, we discuss the process of developing wilderness instructors and guides. We outline the following steps to the process:
Take a course and get the Journeyman certification
Take a medical class, first aid or wilderness first responder
Take and pass the test to become a Registered Maine Guide
Go on a bunch of trips to learn the waterways and fine-tune your systems
Do a practicum, where you live with a certain level of (low) technology for 2-3 weeks to lock it in and make it part of you
PHOTO: Poling on the St. Croix, the border between New Brunswick, Canada and downeast Maine.
Show Notes: JMB Podcast Episode 98 | Wilderness Instructor Development Process
Kid-Friendly?
Kid friendly, no profanity.
Links:
---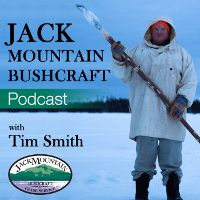 Podcast: Play in new window | Download (Duration: 35:41 — 32.7MB)
Subscribe: RSS