We welcomed Ryan Holt into the studio for episode 92. Ryan is a Jack Mountain Bushcraft School alum and has completed 4 challenges on the television show Naked & Afraid. He is the owner of the Human-Nature Hostel in Roxbury, Maine. We talk about his time on tv, his work running a hostel for Appalachian Trail hikers, and the new direction he's heading in as a result of the Covid.
PHOTO: Ryan Holt on Naked & Afraid
Show Notes: JMB Podcast Episode 92 | Ryan Holt
Kid-Friendly?
Not kid friendly, a bit of profanity.
Links:
---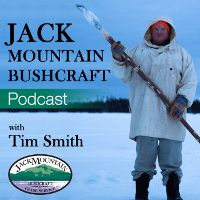 Podcast: Play in new window | Download (Duration: 25:53 — 23.7MB)
Subscribe: RSS